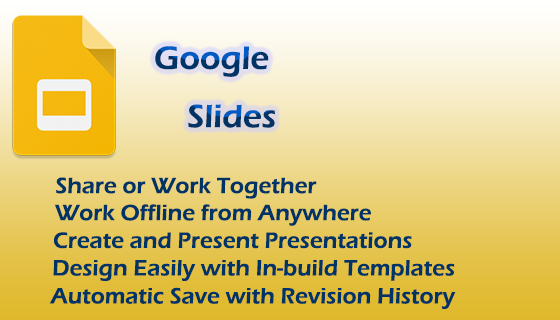 Google Slides is web based online presentation maker from Google. It is best alternative for Microsoft Powerpoint. To access Slides for your Business, you can use G Suite account and for personal use, you only need Google account.
Slides helps to format slide presentations and present them easily. The Slides Application is available for Computer, Android device, iPhone and iPad devices. After opening Slides web version or app version, select Start a new Presentation to create new Presentation.
The Slides can be created and formatted in collaboration with other people also. You can add people to your presentation by selecting the share file and add people to use the Slides together
. You need to give permission to another person or group to view, edit, or comment on Slides. Other Google Docs files can also shared like this and work together.
Work Offline on Google Slides
The Slides Offline extension helps to create, view, edit and work on slides without the need of Internet connection. You need Google account and Internet connection at the beginning to set the file for offline availability. Follow the below steps to access Slides file offline,
Sign into Google account through Chrome Browser.
Install Google Docs Offline Chrome extension.
Open Google Slides and select the file you need offline.
Select the more option and click on Available offline.
The file will now available offline and can work without the internet connection. There will be a check mark appear on the bottom left corner of the file to show it is available offline.
After you make the changes on the file, the same will be updated whenever the device connected to the Internet. It is possible to sync the folder with your device to make multiple files available offline.
Other Features offered on Google Slides
The Google Slides app available for Android, iOS devices help you to work the Slides file from your device. The changes you make will be saved automatically, so there is no need to worry of loosing the works you done.
The Google Slides helps you to select the right layout by giving suggestion and complete your work in fast and simple way.
Google Slides provides version history which helps to know the changes made to Slide document. You can see the changes by selecting the file and click on File > Version history.
The right panel will show the details including who edited, time and date etc. If you need, you can restore the current version with selected version.
If you need checking spellings and show corrections, you can turn on 'Check spelling' option by selecting Tools > Spelling option. It then shows a red underline on misspelled words and can be corrected with suggest words by right clicking the word.
By using Keyboard shortcuts you can easily navigate, format, and edit files faster. By clicking Ctrl + / , you can see the list of keyboard shortcuts and common actions.
There are Google Workspace add-ons available from Get add-ons option to add more features to Google Slides and do more. It is very effective to use Google Slides than PowerPoint, Keynote, or other presentation apps to work better with Slides and Presentations.
The Slides can be presented to an audience by selecting the Presentation mode. By entering into the Presentation mode, the view will be changed to Full screen. You can make use of Chromecast or AirPlay to present the slides in larger screens.
Each slides can be changed by using the arrow keys or by clicking the arrow button shown at the bottom of Presentation.